Cover & Excerpt
Reckless Rebellion by Rinelle Grey
Barren Planet series Book Two
With Tyris's home planet in sight, Marlee is looking forward to exploring her new home.

Only a routine medical exam to go, then they can be together on the thriving planet of Urslat.

Incredibly, the exam reveals something that shouldn't be possible. Something that is actually illegal because of Tyris's past. Marlee's pregnant.

Marlee and Tyris will do everything they can to keep their secret safe.

But Urslat has its own problems, forcing Marlee to choose between everyone she has ever known and the ultimate secret she carries within.
Genre: Sci Fi Romance
Release Date: September 18, 2013
Publisher: Rinelle Grey

Excerpt & More
Purchase links:
Amazon US
Amazon UK
Excerpt:
Standing next to Marlee, a warm glow of accomplishment filled Tyris as he watched Urslat come closer and closer. Eventually, the planet filled the entire viewscreen. The sun glinted off one side of the planet, barely matching the bright, welcoming lights that lit up every corner of the continent below them, outlining its shape clearly. Slowly, the Hylista orbited the planet, until Tyris's own continent appeared on the horizon, bathed in sunlight, with the space dock tethered above it.
"You made it. You're home," Marlee murmured.
Tyris nodded, choked up.
Home.
Not long ago, he'd believed he'd never see it again. Yet, here he was.
Marlee put a hand on his shoulder, and he put his hand on top of hers and looked down at her with a smile.
The beep of the computer behind him broke their moment. "You'd better sit down and belt up," Tyris told her. "We're landing on the space dock, so it shouldn't be rough, but it always pays to be careful."
She took the seat next to him and fastened her seatbelt, as Tyris checked the flight path that had been sent to his console. All looked good, so he confirmed the path and followed the directions, landing smoothly at Hanger Three near the terminal.
He took his hands off the instruments, put them in his lap, and just sat for a moment, trying to take in the fact that he'd finally arrived.
Marlee's hand on his arm startled him out of his thoughts. "Shouldn't we be going?"
"Yes, we should. Grab your stuff. We probably won't be back."
"Isn't the ship yours?"
He laughed. "Oh, no. This sort of ship isn't available for civilians to own."
Marlee blushed. "Oh."
"I know it's a lot to take in, but it will be okay, really. I'll be there with you the whole time."
She took a deep breath, straightened her shoulders, and nodded.
While he grabbed his belongings from the cabin, she did the same. He pressed the buttons to release the door, and turned to her. "Are you ready?"
She wore her best dress, the one Jaimma had given her for her birthday, with pink frills. "As ready as I'll ever be."
He took her hand, and she gripped his fingers. Together, they stepped into the doorway.
Despite the bright sun he knew shone above them, the sky glowed purple this far up in the atmosphere. All around them, concrete and glass covered walkways ran, limiting their field of vision. So long as you weren't in one of the outer walkways, it was easy to miss the fact that you were in the upper atmosphere.
There wasn't time to take in the view though. Half a dozen soldiers stood right in front of them with sub-machine guns raised. Shocked, Tyris, shielded Marlee behind his back before stepping forwards, hands held up. "Here now, what's all this?"
The soldiers didn't lower their weapons. "General's orders, sir."
"Then where is the bloody general?"
~~~~~~
Purchase links:
Amazon US
Amazon UK
Other titles by Rinelle Grey:
Reckless
Rescue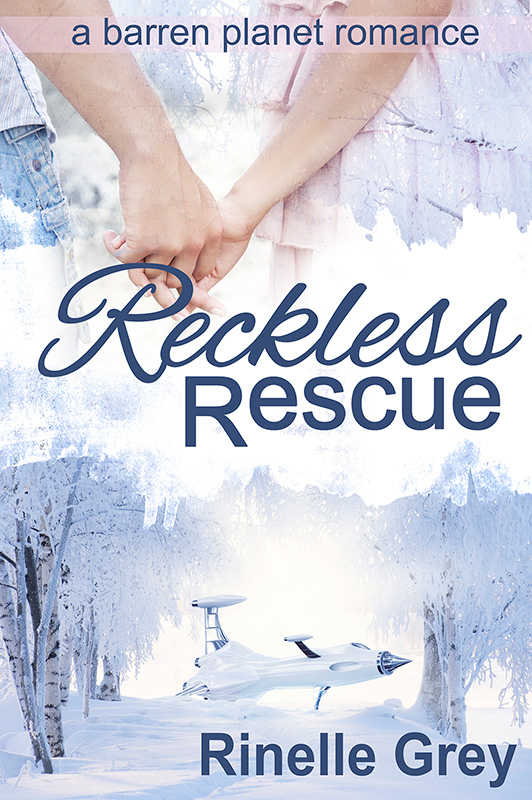 Find Rinelle Grey at:
www.RinelleGrey.com
Twitter: @RinelleGrey
www.facebook.com/rinellegreyauthor
www.goodreads.com/author/show/6950185.Rinelle_Grey
Rinelle Grey Amazon author page
Join Rinelle Grey's mailing list

Be on the lookout for Rinelle Grey's upcoming releases:
Twin Curse
coming December 2013 and
Reckless Recon
coming in 2014
Interested in this book? Let your friends and family know about it. Use the buttons below to share this post with them.